Working principle
Raw materials are sent into hopper by quantitative feeder, compactors use the pair of roller with the hole roll, leaving certain gap and rotation with the same speed reversely. Shaft holders of one group of rolls are fixed, and the other one of group can slide to help the hydraulic cylinder press the rolls for abutting closely against each other. Many arc grooves with the same shape and size are arrayed regularly on the roll surface. In accordance with different compressing ratios of target materials, the wave though of arc groove of one roll shall be directed at that of one roll. When two rolls parallel each other horizontally, powder grained materials are, continuously and evenly fed in the gap between two rolls by means of their gravities and through a forced charger from above of two rolls. After entering the nip area, the materials are gradually nipped by the rolls. With continuous rotation of the rolls, the space that the materials occupy reduces gradually and is compressed step by step and reaches the maximum shaping pressure. And then, as the pressure reduces gradually later, pressed blocks drop off the arc grooves of the rolls for recovered elasticity and gravity of the flaking machine and enter a crushing device for crushing and then enter a sieving device for sieving. At last, grained products are obtained. The powder materials and large particles which are substandard will return to bucket elevator and enter into the next process with new products.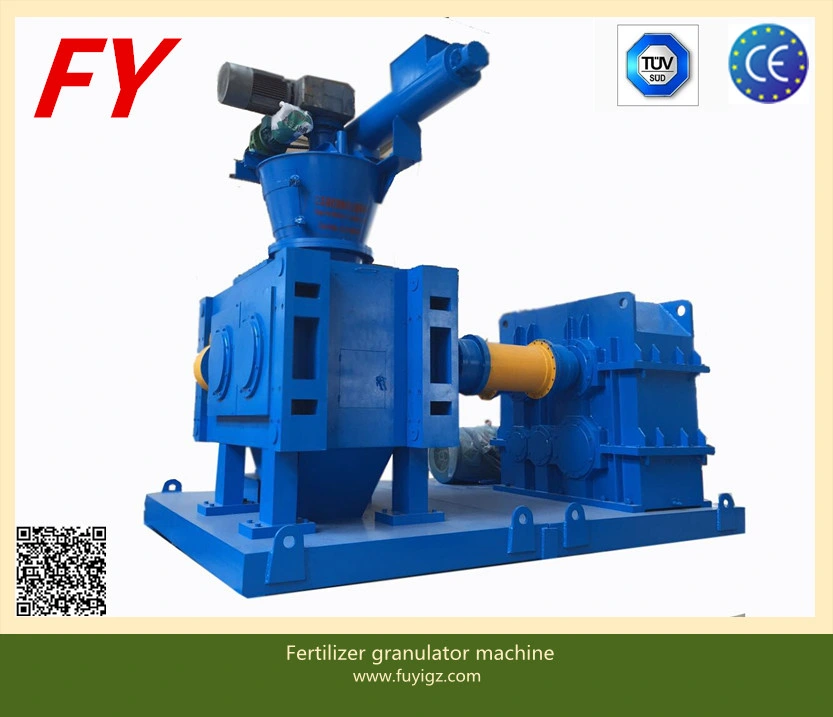 Technical Parameters
Model
DH240
DH360
DH450
DH650

Roller diameter (mm)

φ240

φ360

φ450

φ650

Valid usable width (mm)

300

170-230

190-280

290-330

Roller speed (rpm)

50-100

10-25

10-25

10-25

Max rolled sheet thickness(mm)

4

8

12

16

Rolled sheet output*(kg/h)

/

1300-2300

2500-3500

5000-7000

Finished product output
(kg/h)
2000-3000
(Oblate)

900-1300

1800-2500

3500-4000

Granular size (mm)

3.5/4.2/4.5/
5.5/6.5 etc.

2-5

2-5

2-5

Main unit power (KW)

45

30-37

55-75

90-110

Total installed capacity (KW)

55

55

90

175

External dimension (mm)

2300×1700
×1860
2350×2000
×2600
2600×2200
×2900
3600×2800
×3200

Total weight (t)

5

7

10

21
Model

DH850

DH1050

DH1500

DH1700

Roller diameter (mm)

φ850

φ1050

φ1500

φ1700

Valid usable width (mm)

420

500

650

650

Roller speed (rpm)

9-16

8.5-14.5

6-13

5-12

Max rolled sheet thickness(mm)

25

36

36

46

Rolled sheet output*(kg/h)

12,000-16,000

22,000-
38,000
32,000-
100,000
50,000-
1,600,000
Finished product output
(kg/h)

6,000-8,000

12,000-
16,000
15,000-
50,000
28,000-
80,000

Granular size (mm)

2-5

2-5

2-5

2-5

Main unit power (KW)

220-250

400

400×2

560×2

Total installed capacity (KW)

400

850

1,500-1,800

2,000-3,000

External dimension (mm)

5,000×3,800
×4,100
7,000×5,000
×6,000
9,700×
5,600
×7,700
10,500×
6,000
×8,100

Total weight (t)

46

75-85

120-150

200-220
Applicable examples
Name of material

Specification

Granular size(mm)

Output(kg/h)

Potassium chloride, Russian red potassium

DH360

2.0~4.75

1000~1500

DH450

2000~2600

DH650

3200~4500

Potassium sulfate

DH360

2.0~4.75

1000~1300

DH450

2000~2500

DH650

3000~4500

NPK fertilizer

DH360

2.0~4.75

900~1500

DH450

1800~2600

DH650

3000~4500

Ammonium chloride

DH360

2.0~4.75

800~1000

DH450

1800~2500

DH650

3100~4600

Ammonium sulfate

DH360

2.0~4.75

800~1000

DH450

1800~2500

DH650

3100~4600

Cryolite

DH360

2.0~6.0

1000~1500

DH450

2000~2600

DH650

3200~4500

Antioxidant

DH360

0.3~2.0

300~400

Zinc oxid

DH360

1.5~2.5

350~500

Sodium cyanide

DH360

1.5~6.0

800~1000

Steel making flux

DH360

Olive shape

1000~1200

Snow melt agent

DH360

2.0~7.0

800~1000

Bromine chlorine hydantotin

DH240

1.5~6.0

~300

Medical intermediate

DH240

0.5~2.0

~200
Examples of finished products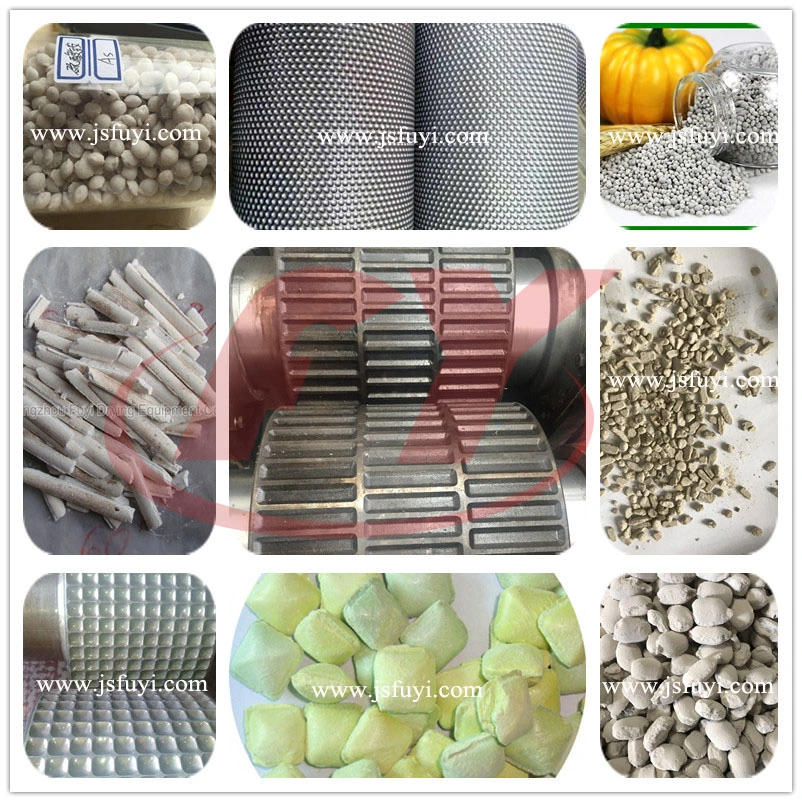 Parts of one whole set of granulating line
1.Pre-feeder
Equipped with mechanical vibrating feed hopper with automatic control and timing vibration.
2.Quantitative feeder
Adopts frequency conversion adjusting speed to ensure the feeding accuracy.
3.Force-feeding screw hopper
It is composed of variable frequency motor, cone helix, stirring knife tooth and cone feeding hopper with visual glass window as well as feeding mouth assemblies and so on. Its function is to further achieve degassing and perform pressure feeding.
4.Flaking machine
It is composed of left and right fixed bearing seats, frame structure, two alloy steel rollers, two hydraulic oil cylinders, electric automatic pump station as well as hard tooth surface dedicated reducer and main driving motor.
5.Crushing & granulating machine
It is composed of cutting-up box, cutting-up main shaft and special rotating cutting blades and the main shaft is driven at high speed by the motor to break the extrusion forming materials and dress into pellets.
6.Vibration screen
It is equipped with screen block-proof device and convenient to clean the screen. The broken pellet and powder materials from the breaking and dressing machine is divided into pellet product and recycling powder.
7.Material return auger
It sends the unaccepted powder material returned from vibration classification screen to the feeding elevator.
8.Bucket elevator
Upper and lower sprocket use assembly structure for the transportation of materials.
9.Control cabinet
It is composed of the electrical components such as electric control box, frequency conversion controller, ammeter, voltage meter, light, button switches, voltage switch and so on. All the electrical equipment is controlled and operated concentratedly.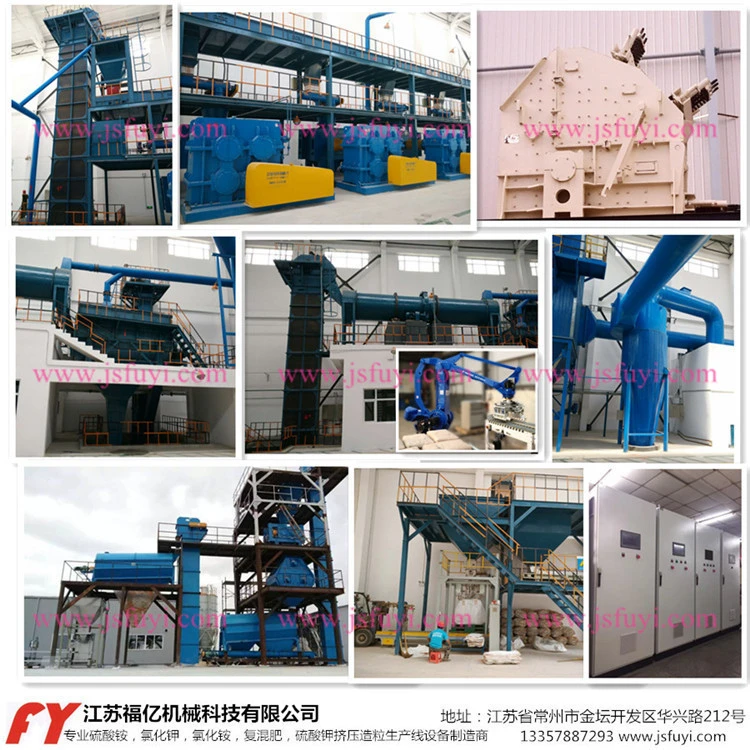 Layout of Fuyi granulating processes
We can design different diagram for different clients, we need to design the layout according our clients provide us some basic information about the size of their factory, and how do they want to place the equipments. Our target is making the process more simple , more easy, more economic and more effective.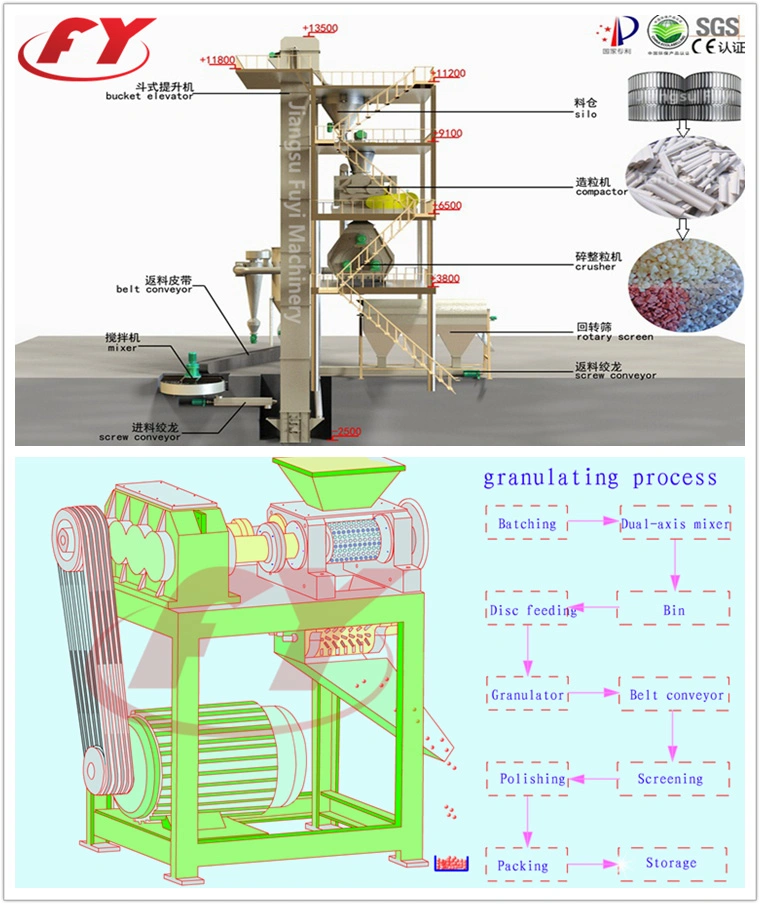 Customers Installation Site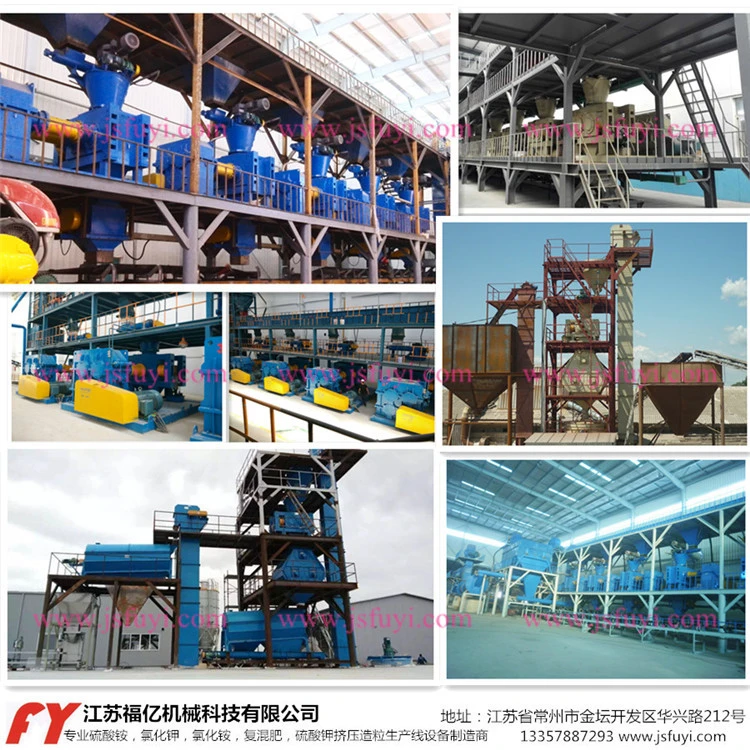 We welcome customers to visit our factory
Delivery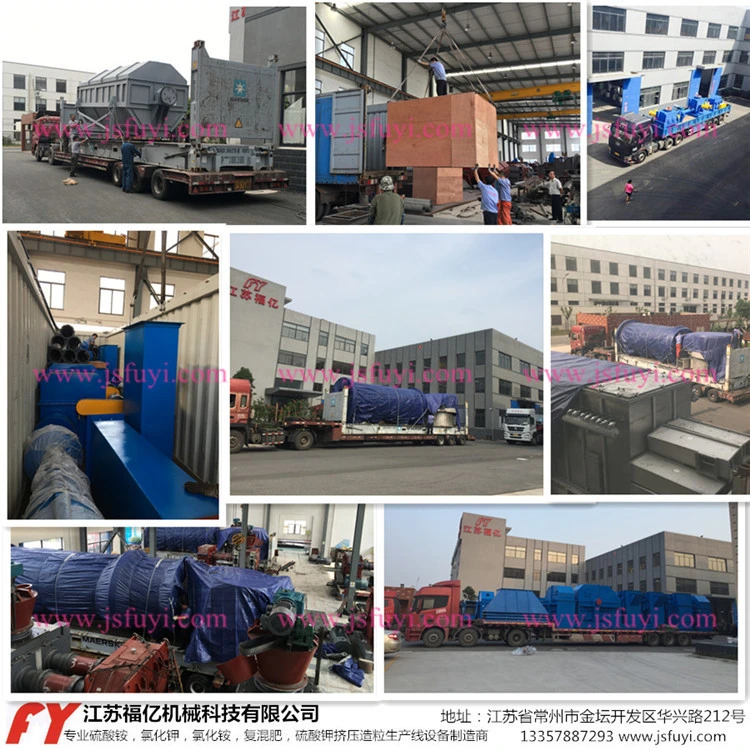 Services
Fuyi has designed and manufactured roller presses and equipments for briquetting and compacting NPK fertilizer, powder, chemical, minerals, etc, since 2006. We take care of green field projects as well as of existing plants. Our services cover material tests, process layout, engineering, and supply of complete granulating plants or key equipments, guidance of installation and commissioning, training.

Also, the company manufactures and supplies equipment for drying equipments and dust collector machines.
Extensive experience and best quality production facilities guarantee a smooth workflow from start to finish.
Q:Do you provide the installation service after ordering your machines?
A:As for the single machine, we provide the users instruction.
As for the production line,we provide the professional construction drawing, and arrange the engineer guide the user install the machines.Help the user train the skilled workers.
Q:Can you be sure the wearing parts supply in future?
A:We promise to provide the wearing parts to user in future.
Q:How about the warranty of our machines?
A:Our production line, and single machine's warranty is 1 year.
Q: Do you allow us to visit your factory for try some machines?
A:We warmly welcome the clients to come to our factory for trying each machine.
Q:Can we see some fertilizer plant with your machine?
A:We can take the customer to visite some fertilizer plants with our equipements.