professional/high efficiency/good quality palletizing robot
Can design and produce palletizing robot as your detailed requirement
Mob: 008618255176700
We are pleased to introduce our XY Series Palletizing Robot. Our XY series high-speed automatic palletizing robot can be widely used in industries of oil, grain, food, feed, chemical industry, wine, beverage, printing ect. The benefits of a robotic palletizer to your company are numerous, not only in speed, but handling, labor, cost, and flexibility. Whatever product you palletize, bags, cartons, or cases, our robotic palletizers can put you ahead of the competition with the right palletizing equipment for your needs.
BENEFITS OF PALLETIZING ROBOT
Safer for workers
Higher production rates
Optimization of warehouse space
Greater quality and stability of full pallet loads
Quick payback on investment (savings on labor)
Minimal downtimes (maintenance, changeovers, repairs)
Greater competitiveness for your product in the market place
More consistent production rates
Low power consumption
PLC controller, easy to use
TECHNICAL PARAMETERS:
Model No.: XY-SR-210
Drive: AC servo motor drive
Installation: On floor
Max. Palletizing Weight(contains weight of gripper): 210kg
Handing Capacity: 900Times/Hour
Movement Axis: Normally 4 axis: A, B, C, D (can be 6 axis)
Movement Scope
A-Axis(Horizontal): 1500mm
B-Axis(Vertical) 2100mm: 2300mm
C-Axis(Body): 330
D-Axis(Gripper): 330
Optional Gripper: Pallet, Finger, Sucker and so on
Palletizing Memory Ability: Normally 30kinds(the most can be 400kinds)
Teaching Method: Manual teaching/teaching support/teaching cancel(optional)
Power(200V 3pH 50Hz): 6.5kVA
Compressed Air: 0.5Mpa
Robot Weight(not contain gripper): 1150kg (+/-10%)
Product show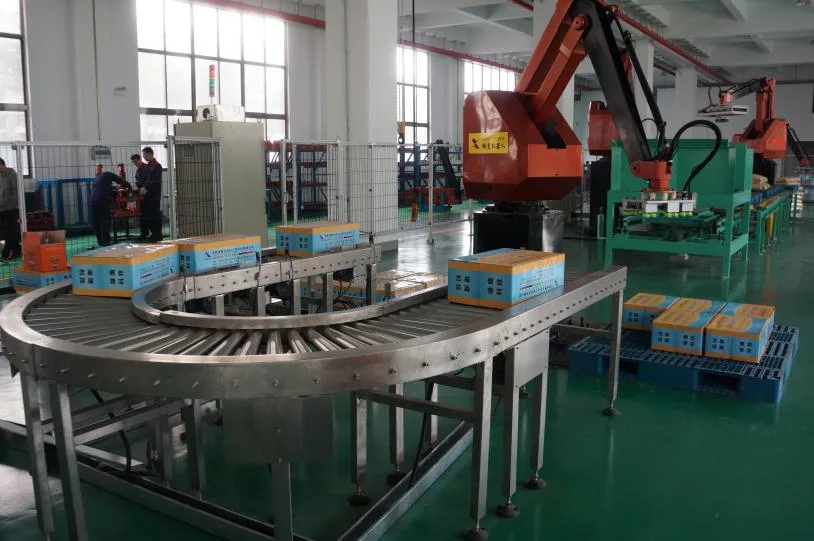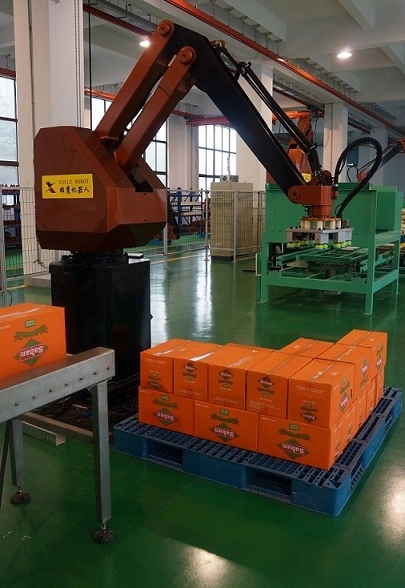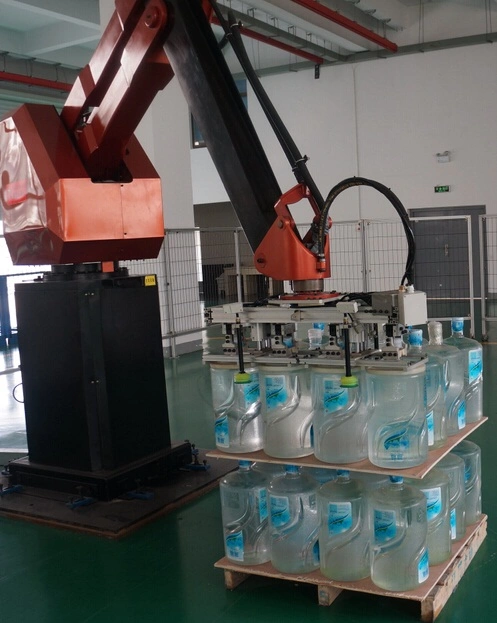 Factory Show
Welcome to visit our factory !