Factory Supply Liporase Lyophilized hyaluronic acid Lyase Powder Dissolve Hyaluronic Acid Filler Hyaluronidase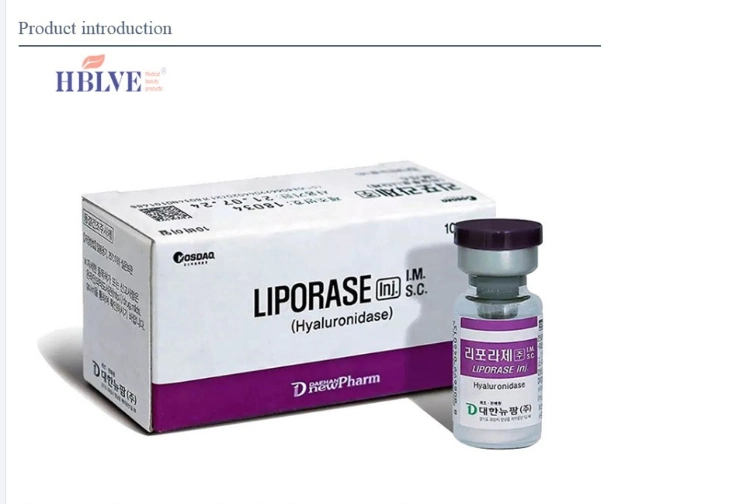 Hyaluronic acid lyase, also known as hyaluronidase or hyaluronidase for injection, is an enzyme that hydrolyzes hyaluronic acid. Hyaluronic acid lyase is a natural enzyme that hydrolyzes hyaluronic acid. It eliminates the injection of inappropriate parts, and eliminates the excessive injection of hyaluronic acid, resulting in a 90% elimination rate. It is mainly used to repair the failure of hyaluronic acid moulding. Hyaluronic acid lysase is a substance that dissolves hyaluronic acid. After hyaluronic acid injection, I don't feel very well after cosmetology. It can dissolve in hyaluronic acid within 48 hours and then be filled again with hyaluronic acid.
| | |
| --- | --- |
| Product name | Liporonidase hyaluronidase |
| Package | 10 vials in a box |
| Appearance | White powder |
| Size | 4*3*8cm |
| Weight | 0.3kg/box |
Contraindications of hyaluronidase for injection:
1. Hyaluronidase can not be injected within 48 hours after botulinum toxin injection, because hyaluronidase can promote the serious spread of botulinum toxin.
2. In order to avoid some acute and chronic diseases, there are still some medicines taken orally, especially those with allergic history.
3. The interval between hyaluronic acid injection and hyaluronic acid injection is usually safe within a week interval. If an emergency occurs, the interval is 72 hours. This is related to the absorption of drugs.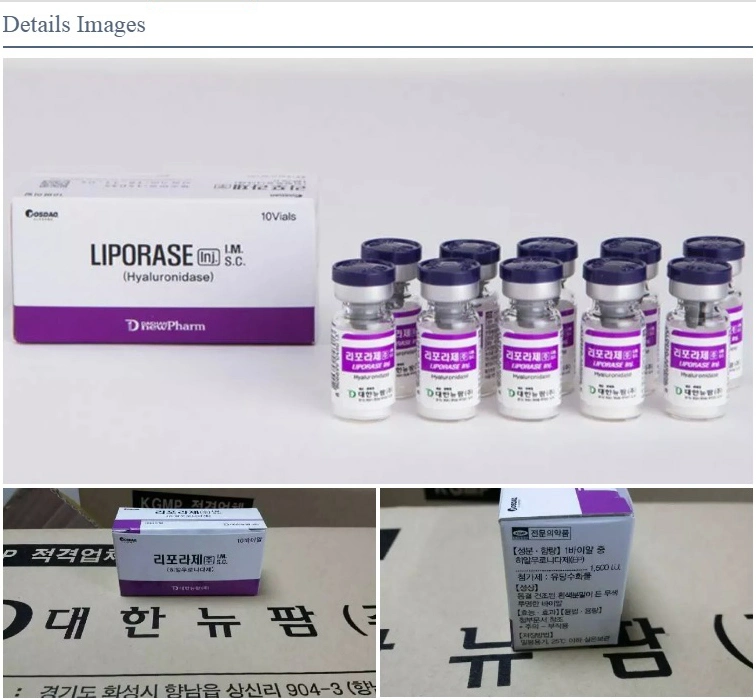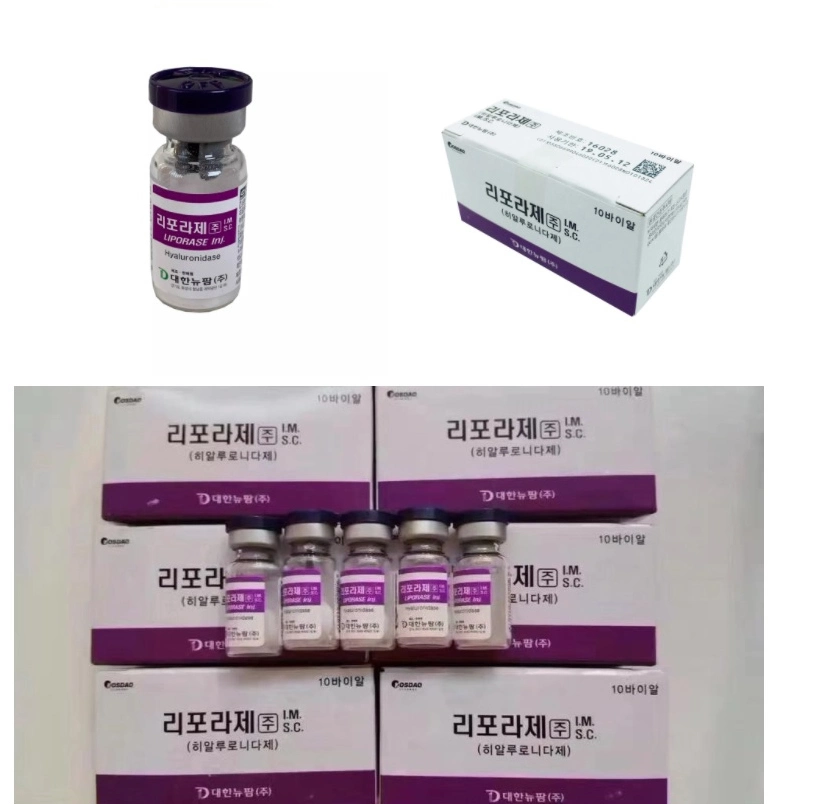 Storage of Configuration Fluid:
1.Liporase (Liporase injection) Ovine is supplied sterile as 200 USP Units/ mL of ovine Liporase non-preserved, 1.2 ml in a single-use 2 mL glass vial with a rubber stopper and aluminum seal.
2.Protect from light.
3.Store unopened vial in refrigerator at 2° to 8°C (35° to 46°F).
4.Do not freeze.
5.Storage of Configuration Liquid: The formulated lysozyme is extremely unstable in aqueous solution and should be prepared before use. The remaining solution can be stored at temperatures below 30 degrees for 2 weeks, but if it is discolored or precipitated, it cannot be reused.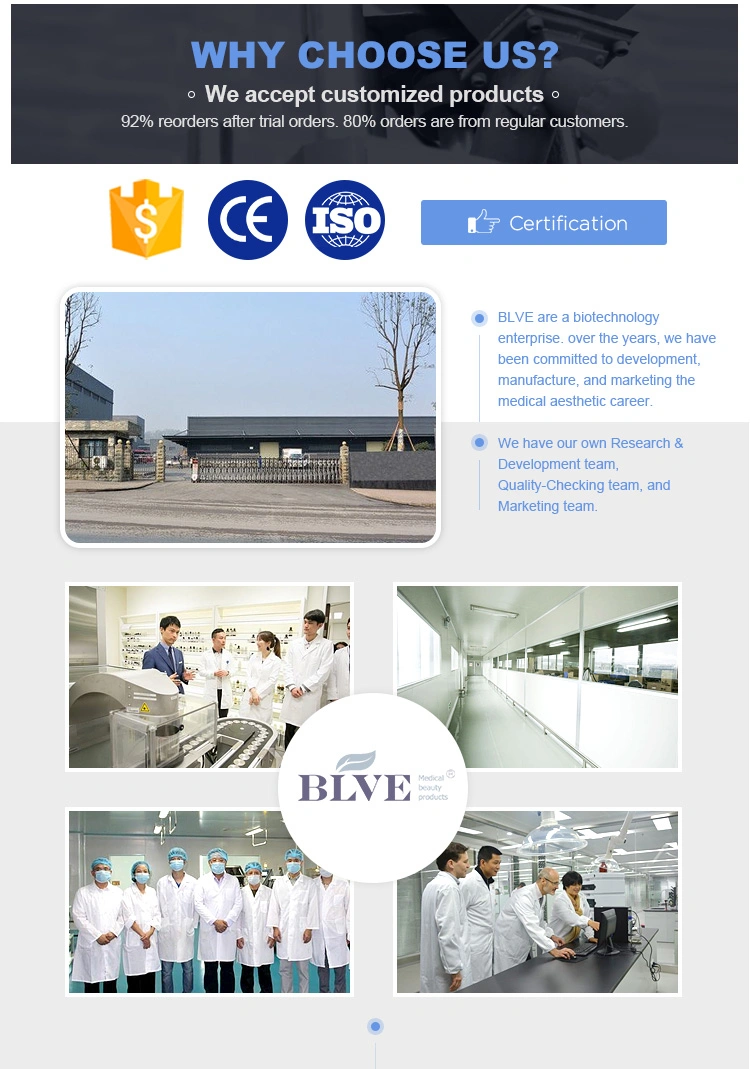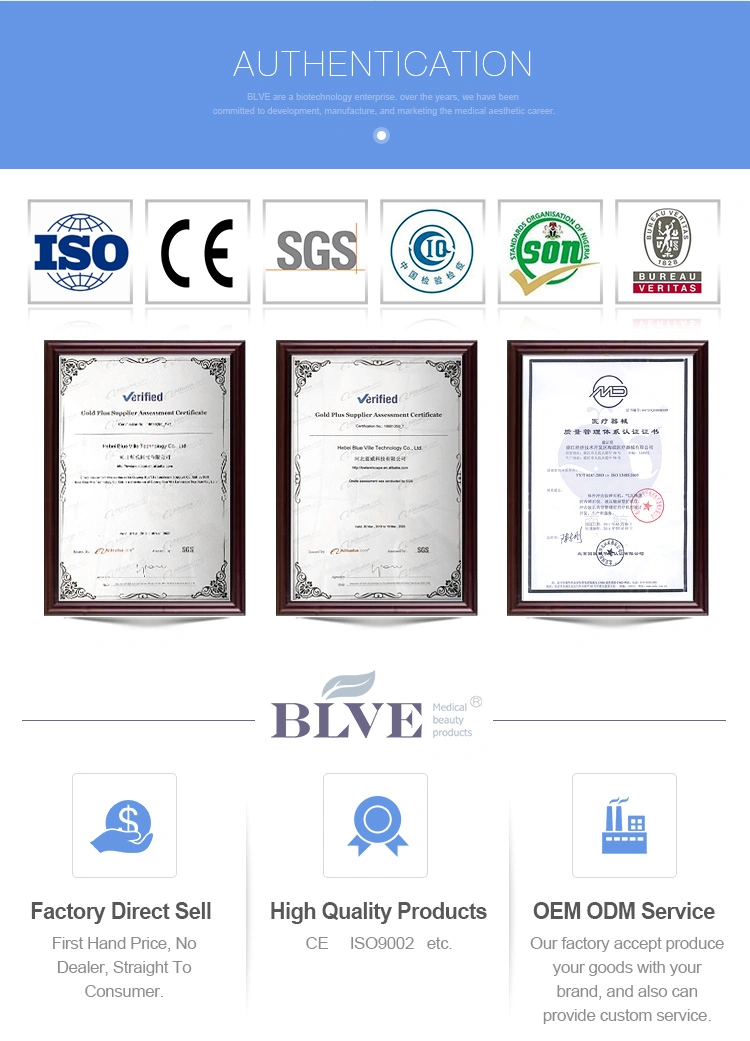 FAQ:
Q:

What is the lead time?
A: Sample needs 1-3 days, mass production needs 5-10 days.
Q:What are the benefits of hyaluronic acid dermal filler?
A:Hyaluronic acid dermal filler are an injectable form of naturally occurring, based on biodegradable, nonanimal hyaluronic acid and are biosynthtically produced. There is no need for allergy testing.
Q:What's package?
A:Reply:strong and beautiful aluminum alloy case/carton case/wooden case.
Q:Do you offer OEM and ODM services?
A:Yes, we can offer you better OEM and ODM services.
Q:What is the cheapest shipping way?
A:For small order,express is better,for bulk order, shipping by sea is cheap, but take longer time.If urgent orders, we suggest to ship by air.
Q:How long do the hyaluronic acid products last?
A:The effects of the treatment with hyaluronic acid are long lasting but not permanent. Individual results will depend on a variety of factors, e.g. Location of application, and the patient's age, skin type, skin conditions, metabolism and lifestyle. In most cases the effect lasts for 6 - 18 months.
Q:How should I behave after the treatment?
A:Do not expose your treated area for 3-4 days to intense heat or cold. During this time frame you should avoid alcohol, sauna sessions and sunbathing. Do not massage the treated area.